About Vortex Media Group
Vortex Media Group is a publishing group of automotive-related enthusiast websites. Each site is the best in their respective niches, providing not only editorial coverage and news, but fostering community through active discussion forums and commerce with various manufacturer, vendor, and advertising relationships. Our titles include: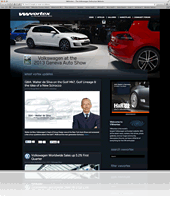 VWVortex – The Volkswagen Enthusiast Website
VWVortex – our flagship website—has been the definitive online source for the latest information on Volkswagen brands since 1997. With over 31 million page views each month, from more than 2.1 million unique visitors, VWVortex has attracted a very loyal following. VWortex is devoted to enthusiasts of Volkswagen, Audi, Bentley, Bugatti, Lamborghini, Seat, and Skoda brands.
VWVortex can be found online at www.vwvortex.com
Swedespeed – The Volvo Enthusiast Website
Swedespeed was created for Volvo car enthusiasts. Encompassing the full spectrum of Volvos from classic models to the newest cars and concepts, family station wagons to racecars, and all-rounder SUVs, the momentum behind the Volvo brand is coming on strong and Swedespeed is there to cover it all-all for the Volvo enthusiast.
Swedespeed can be found at www.swedespeed.com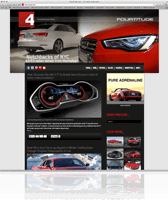 Fourtitude – The Audi Enthusiast Website
Fourtitude is the complete source for owners and enthusiasts of the autmobiles produced by the Audi Brand Group. Spanning everything from the latest Audi, Lamborghini, and SEAT automobiles to the earliest offerings from Auto Union, NSU, DKW, Horch, and Wanderer, Fourtitude covers it all.
Fourtitude can be found online at www.fourtitude.com
Each of the Vortex Media Group websites has a mission to bring the best of design and content to automotive enthusiasts across the globe. We not only provide leading editorial coverage and news, we also build communities of loyal readers that come back day after day, getting their fix of what they love most. Our enthusiasts sites attract a total of more than 2.9 million readers that make in excess of 35 million page views every month. We move over 6.2 TB of data through our server farm each month, and have seen a growth rate of over 21% in 2012.
We strongly believe there is no online resource with a better direct connection to enthusiasts than our publications. Our extensive relationships with the companies and brands represented by our websites extend well beyond our editorial coverage and public relations contacts. In the end, we give our readers the best publications possible with news and features--often days, weeks, and months ahead of other media.
Vortex Media Group will continue to add value and features to our ever-expanding portfolio of publications. 2013 will see expanded depth of coverage and features stories, both across the US and around the globe. New websites are also in the works, representing some of the most exciting and dynamic brands today.
The automotive world is a thrilling and constantly evolving industry, and we look forward to covering it all.
Happy motoring.